Global Initiative of Academic Networks GIAN)
Inaugural function of the GIAN course "Rethinking Architecture, Energy efficiency and participation in Urban Development" August 13-18, 2017
---
Pact for world class tourism, heritage projects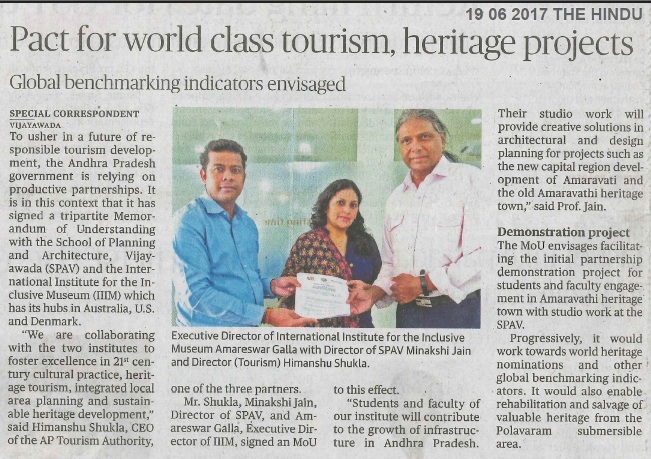 Stakeholders Meeting On A.P. Green Building Policy Docunment
DATED: 23 March, 2017
Andhra Pradesh state government had started its efforts to bring a green building policy. The Andhra Pradesh Pollution Control Board (APPCB) which is taking responsibility of preparing Green Building Policy(GBP) had organized a meeting with city planning experts and construction agencies here on Thursday to analyse possibilities on improving green cover in horizontal constructions in concrete cities.
Addressing the gathering, chairman of AP. Pollution Control Board G.N Phani Kumar said that constructing green buildings is not the only solution we have to change eco system.
He said that India is Construction industry in India is creating a lot of pollution and need to decrease it by utilising renewable energy sources and advanced machines. Mr Phani Kumar stressed that there is a huge scope for green buildings in state as government is heading to construct huge buildings. "We can reduce the pollution by using fly ash and light weight bricks and compulsory greenery in vertical spaces,"says Phani Kumar. He asked the stakeholders to come up with interesting ideas to be included in the GBP , he said. Our policy should be a role model for other states, he said.
Secretary of Pollution Control Board B.S Prasadh opined that cost of green buildings will be very high when compared to normal construction but we have to go with eco friendly constructions considering the future, he said. Director of School of Planning and Architecture Minakshi Jain stressed on open need of open spaces and green cover in cities. CSC executive director Anumita Roy Chowdhury and officials of the municipal administration and town planning attended the meeting.
Inyan 2017
DATED: March 03, 2017
Regional Plan for the Amaravathi Capital Region field work visit of SPA Bhopal to SPA Vijayawada
DATED: FEBRUARY 07, 2017
Plan for 'Cultural Complex' in Amaravati
Tourism & Culture Principal Secretary N. Srikant, Department of Language and Culture Director D. Vizai Bhaskar and experts in culture and architects at the meeting on 'Cultural Complex' in capital region, in Vijayawada on 30-1-2017.

In the wake of the State government's decision to allot 10 acres for a multipurpose Cultural Complex in the upcoming Amaravati city, the Andhra Pradesh Creativity and Culture Commission has initiated steps to bring up the infrastructure.